Diamondback Impression 16"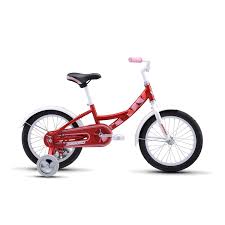 Diamondback Impression 16"
A kid's first bike always leaves lasting memories, and the Mini Impression will certainly make its mark. The cute colors and fun styling will win her heart, but the joy and freedom she discovers by riding a bike is a love that will last a lifetime.
FrameNew 16" Impression w/ Improved Stand Over Design, Durable Hi-Ten Steel
Fork16" Hi-Ten Rigid Steel
HeadsetThreaded 1"
Cranks114mm Steel 1 Piece w/ 36T Single Ring
Bottom BracketLoose Ball
Cogset16T Coaster
ChainKMC Z410, Single Speed
Front Hub28h Steel Nutted, w/ 3/8" Axle
Rear Hub28h Nutted, Coaster
Spokes14g Steel
Rims28h Alloy Single Wall
TiresDB Smooth 12x2.25"
BrakesCoaster
PedalsResin Platform
HandlebarHi-Ten Steel Jr. Riser
GripsSoft PVC
StemSteel Quill w/ Alloy Cap
SeatDB Jr. Girl's Padded
SeatpostSteel Pillar 25.4mm
ExtrasOwner's Manual, Assembly Guide, Training Wheels, Tool Kit
Bike Weight23.77 lbs
AccessoriesNew 16" Impression w/ Improved Stand Over Design, Durable Hi-Ten Steel